Confectioner by passion
Since childhood, Christian Brabant dreamed of making his own confectionery.
In 1996, he took the plunge and began trading in confectionery and chocolate.
In 2002, with years of experience with French manufacturers, Christian Brabant decided to create his own brand: Cœur des Lys was born, bringing together gourmet products from the Hauts-de-France region, nougats & caramels and confectionery.
Monsieur et Madame Cœur des Lys
Land of giants par excellence, Flanders discovers two characters associated with the new brand: the giants, Monsieur and Madame Coeur des Lys are born!
Another step in 2014 with the birth of the Pit & Pat brand. Gourmet creations: the pastry collection, coulis, spreads and sweets.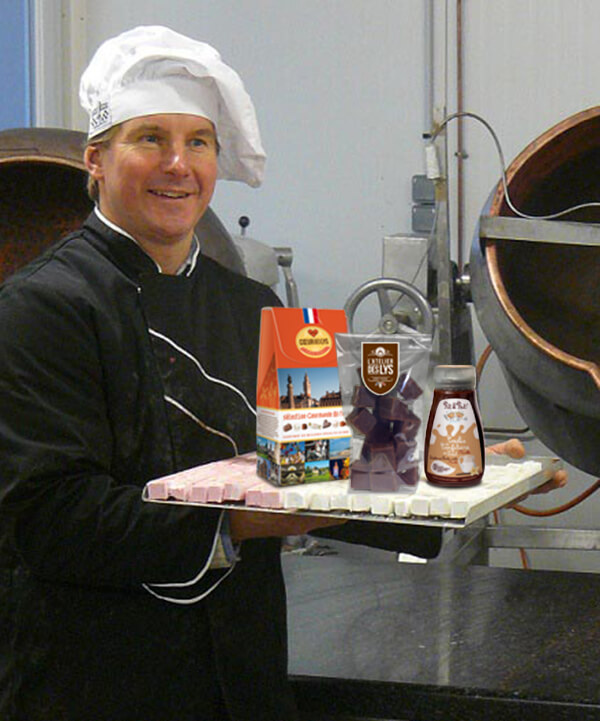 Creativity, Responsiveness and Performance
Wishing to bring a new benchmark in French confectionery, Coeur des Lys respects its motto «Creativity, Responsiveness & Performance» on a daily basis. Christian Brabant uses his know-how as a manufacturer to offer a wide range of nougats, caramels and typical regional confectionery from the Hauts de France region.
In 2019/ 2020, it completes its range with new handcrafted marshmallow products and modernizes its visual communication with new logos for Coeur des Lys and L'Atelier des Lys and new packaging.
In 2021, the arrival of new chocolate-coated products, nougats, marshmallows and caramels, creation of the first version of the "L'Atelier des Lys" merchant site and soon the birth of …
See you soon for new adventures.
Whether you are an individual willing buyer of quality artisanal products or a company wishing to disseminate our products, go to our shop.